Granite Monument & Granite Memorial Sales
Granite monuments and cemetery memorials, sometimes called headstones, or upright grave markers, are available from Childs' Monument Works for both the wholesale and retail markets. Childs' Monument Works is a family owned business with years of granite industry experience, and supplies custom granite cemetery memorials designed to your specifications. These granite cemetery memorials are an everlasting tribute to your loved one and we will try to make the selection as easy as possible. We specialize in design, manufacture and installation of granite monuments and granite memorials. Below you will find examples of headstone memorials, but your memorial can be custom made to your wishes. Several styles of granite flower vases are available with any memorial. Please call us at 1-877-717-6972.
Childs' Monument Works, A Full Service Granite Company Provides
Standard and Custom Granite Memorials and Monuments
On Site Sandblast Stenciling of Exiting Stone Monuments
Retail granite monuments and cemetery memorials.
Wholesale granite memorials to dealers throughout the country.
Cut to order granite memorial blocks.
Setting and installation and cleaning of memorials and monuments in Georgia, South Carolina, North Florida, Tennessee, Alabama, and Mississippi.
We understand that when you need a granite memorial for your loved one, you need a company you can trust. Our craftsmen have years of experience and we have some of the most beautiful granite available. We will assist you from start to finish, answering your questions, helping you select the best granite, and insuring your are completely happy with the finished product. We believe our work in memorial art will be a cherished part of your family's life throughout future generations. It is our intention to make a meaningful contribution to the people we serve as well as the loved ones they will eventually leave behind. Call Child' Monument Works at 706-988-9101.
On-Site Sandblast Stenciling of Exiting Stone Monuments
Sandblast Stenciling of existing stone monuments to add names or dates is available throughout the Southeast. We can create stencils for sandblasting that will exactly match the existing inscriptions on your monument and sandblast stencil new names or dates when they are needed.
Granite Memorial Benches & Cremation Benches
A Memorial Bench or Tribute Bench is a splendid tribute to a special person. Childs' Monument Works has several styled of memorial benches that will be well received in cemeteries, private gardens, public parks and spaces. Our memorial benches are crafted from the finest Georgia Gray granite which will remain a lasting tribute for years to come. We offer standard benches as well as cremation benches.
Memorial BenchFeatures: Up to 25 characters in standard English, Colors include Georgia gray, Black, Pink & Red Granite, Up to 2 standard emblems on the marker, delivery in the 48 Continental United States. Price does not include cemetery installation/placement fees
Cremation Benches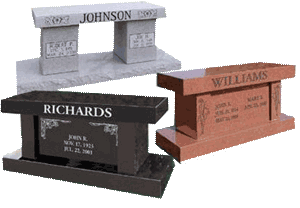 Top 40" x 16" x 4" All Polished

Base 42" x 16" x 4" All Polished

Sides 13" x 4" x 13" Polished 4

Front Panel 23" x 1 1/4" x 13"

Interior Dimensions 22" x 8" x 13"


Childs' Monument Works is a full service granite company. We specialize in supplying, installing and cleaning granite monuments and memorials. We provide granite monument installation and cleaning in Georgia, Alabama, Tennessee, South Carolina, North Carolina, and Florida. Retail and Wholesale Granite monuments and memorials are shipped to anywhere in the country.
Call 1-877-717-6972 or e-mail our Sales Department.
Childs' Monument Works
1353 Lexington Hwy
Elberton, GA 30635
Phone Toll Free 1-877-717-6972
FAX 706-283-6994

E-mail childsmonumentworks@yahoo.com
Map & Diving Directions