Stone Monument & Memorial Sandblasting
We Can Clean Any Type of Stone Monument or Stone Structure!
Granite, Marble, Brick, Rod Iron Fences
Slate, Stone, Concrete, and other materials

We are Experts in Sandblast Cleaning & Stenciling
Childs' Monument Works has the expertise and proper sandblasting techniques to clean and preserve any type of stone monument. Depending on the type of monument, we can clean your monument by sandblasting, acid treatments or other cleaning products.
We also specialize in on-site sandblasting of death dates, lettering and emblems on monuments, signs, benches, bricks, building structures and many other applications.
See before during & after photos of Sandbast Lettering on Granite Bench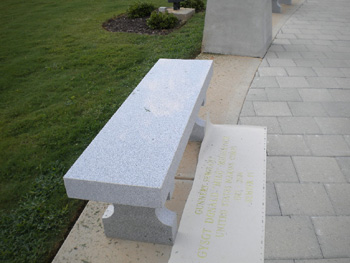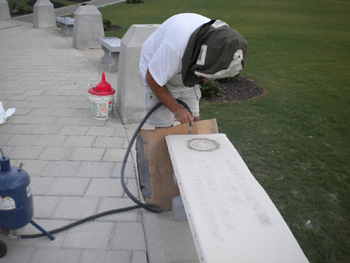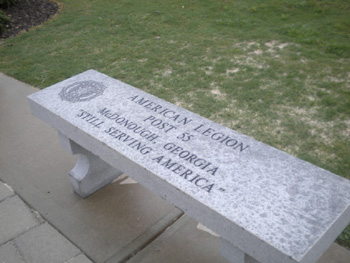 Our monument cleaning and preservation services are available in Georgia, Alabama, Tennessee, South Carolina, North Carolina, and Northern Florida including Atlanta, Athens, Augusta, Savannah, Gainesville, Macon, Jacksonville, Greenville, Charlotte, Charleston, Columbia, Birmingham, Montgomery, and other cities in the Southeastern United States. Call 706-988-9101 or e-mail our Sales Department.
We Will Clean One Monument Or An Entire Cemetery
Childs' Monument Works can professionally sandblast clean your monuments and bring the dignity back to the monuments that your ancestors deserve. We will clean one monument or an entire cemetery. Marble or granite markers, cemetery memorials, civic monuments, crypts, mausoleums, statues, granite signs can be cleaned and made to look like new.
Call 1-877-717-6972 or e-mail our Sales Department.
Childs' Monument Works
1353 Lexington Hwy
Elberton, GA 30635
Phone Toll Free 1-877-717-6972
FAX 706-283-6994

E-mail childsmonumentworks@yahoo.com
Map & Diving Directions